The term hard water is used to describe a fresh water supply that contains relatively high amounts of the natural minerals, calcium & magnesium along with a variety of trace minerals. Hard water is not bad for your health, but it can cause problems with your plumbing & your household appliances. Hard water reacts with cleaning products, creates soap buildup & can wear down fixtures & appliances more quickly than soft water. The minerals found in hard water build up over time and can take a toll on dishes, clothing, fixtures & even skin & hair.
---
How does water become  h a r d ? 
Although rainwater is pure when it falls from the sky, as it flows from the surface into aquifers, it absorbs minerals, primarily calcium & magnesium. This absorption changes it from soft to hard water. The amount of mineral content the water contains determines the hardness of the water.
Where does your household fall on the water hardness scale?
Problems caused by  h a r d  w a t e r :
Hard water minerals clog pipe work & reduce water flow
Small films of lime scale build up on tile & bath/kitchen fixtures
Difficulty rinsing off soap & shampoo completely, leaving skin or hair feeling dry or dull
Glasses & dishes are left with streaks after cleaning
Hard water makes your clothes fade faster from washing
What does hard water do to your  p l u m b i n g ?
The buildup on tubs, showers, sinks & faucets caused by hard water are only part of the problem. The minerals in hard water build-up inside pipes, fixtures & appliances over time. We don't see this buildup and it can cause all sorts of plumbing problems including; reduced water flow, clogs & increased stress on pipes & fixtures. The mineral deposits can also cause appliances to operate less efficiently & wear down faster.
---
Filter out hard water with a  w a t e r  s o f t e n e r .
Installing a water softener in your home will filter out all the nasty hard water minerals, keeping your plumbing clean & efficient. Water softeners convert hard water into soft water. They work by exchanging the hardness ions in your water with sodium ions. Hunter Plumbing, Heating & Excavating Inc can install a water softener to filter out all the hard water coming into your home from the source. That way you have soft water running through your entire home & integrated through all your household appliances, such as dishwashers and washing machines.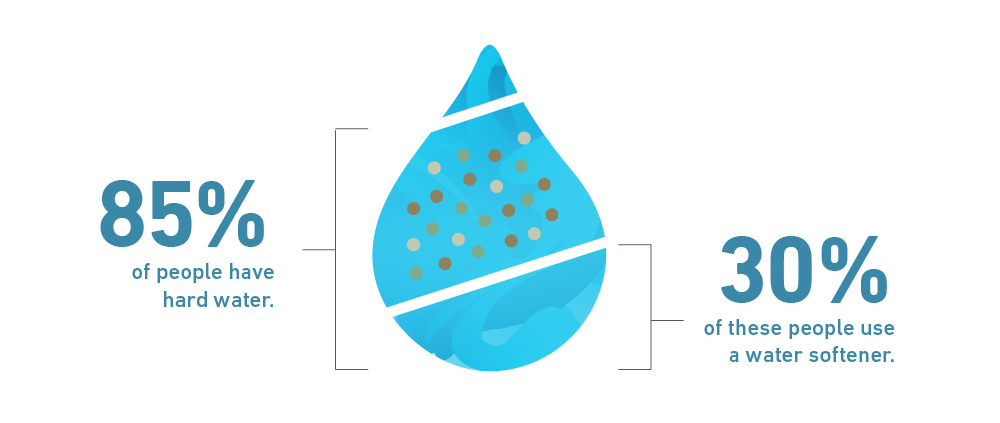 Benefits of  s o f t  w a t e r :
Increased longevity of all your plumbing & water systems
Better efficiency of all water appliances; dishwashers, coffee machines, water heaters, etc.
Softer skin & smoother hair after showering
Reduced monthly energy costs
Softer clothes & reduced colour fading after washing
Cleaner & shinier glasses & dishes
Contact Hunter Plumbing, Heating & Excavating Inc today to have your water tested and we will recommend a water treatment solution that best fits your home.